Planning to Get Married? Get a Background Check With City Investigators
In Delhi, as in many other places, pre-matrimonial investigations are becoming increasingly common with multi-affairs, gold-digging, and con cases. Private detectives are often hired to conduct these investigations to provide important information about the potential spouse and their family background. Though the capital city has numerous options for investigating the background of its would-be partners, not all of them hold professional standards and confidentiality with satisfactory services. To feed the need of the hour, City Investigators step forward with their expertise, experience in the investigation sector, and high work values. Based in the heart of the Country- Delhi, City Investigators have been guiding citizens of Delhi for a better future with clear proof of moving forward confidently.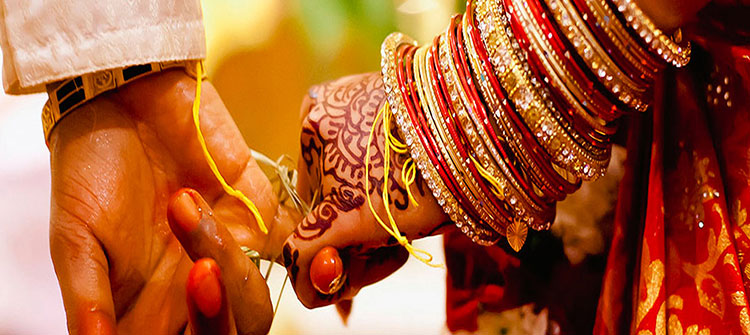 Reasons Behind Matrimonial Frauds
Matrimonial frauds refer to deception or fraudulent behavior in the context of marriage. There can be several reasons why matrimonial frauds occur, including:
Financial gain: In some cases, people get married to obtain financial benefits or defraud the other spouse. This can include obtaining access to the other spouse's assets or property or gaining a green card or citizenship.
Hiding Criminal History: Some people may hide their criminal history or past from their potential spouse to avoid rejection or protect their reputation. This can lead to deception and fraud in the marriage.
Misrepresenting Personal Information: Some individuals may misrepresent their personal information, such as their education, employment, or family background, to present themselves in a more favorable light.
Arranged Marriages: In some cultures, arranged marriages are common, where families of potential spouses arrange the marriage without the direct involvement of the individuals. This can lead to situations where the potential spouse needs to be properly vetted, leading to fraudulent behavior.
Pressure from Family or Social Expectations: In some cases, people may feel pressure from their family or social expectations to get married, even if they are not fully committed or honest in their intentions.
Infidelity: In some cases, people may enter into marriage to continue to engage in extramarital affairs or relationships.
PERCENTAGE OF SUCCESSFUL CASES
It is important to conduct thorough pre-matrimonial investigations to ensure that the potential spouse is honest and trustworthy and to avoid any potential for matrimonial fraud.
Why Do Delhi Need City Investigators for Pre-Matrimonial Investigations?
Verification of Information: With the growing number of online matrimonial websites and apps, it has become easy for people to create fake profiles and provide false information. Our private detectives can verify the information the potential spouse provides, including their education, employment, family background, financial status, and past criminal or civil records.
Family Background Check: In Indian culture, marriage is not just a union of two individuals but also of their families. It is important to know about the reputation, social status, and lifestyle of the potential spouse's family. Our team can investigate the family background and provide information about any disputes, criminal records, or other issues that may affect the marriage.
Prevention of Fraud: In some cases, people get married to commit fraud, such as obtaining a green card or cheating the other spouse out of their property or money. Pre-matrimonial investigations can help uncover any hidden agenda or fraudulent activity and prevent the marriage from taking place.
Compatibility Check: It is important to ensure that the potential spouses are compatible with each other regarding their personalities, lifestyle, and expectations from marriage. We at City Investigators can conduct discreet inquiries to learn more about the potential spouse's interests, habits, and overall compatibility. Overall, our pre-matrimonial investigations can ensure that the marriage is based on mutual trust and understanding and can prevent unpleasant surprises and disappointments in the future. Our private detectives are often hired to conduct these investigations due to their experience, expertise, and ability to conduct discreet and thorough investigations.
What are the Benefits of Hiring Private Detectives for Pre-Matrimonial Investigations in Delhi?
There are several benefits of hiring private detectives of City Investigators for pre-matrimonial investigations:
Comprehensive Background Checks: Private detectives at City Investigators can conduct comprehensive background checks of the potential spouse, including their education, employment, financial status, criminal history, and family background. This can provide valuable information that may need to be noticed through conventional channels.
Discreet Investigations: Our private detectives are trained to conduct investigations discreetly without arousing suspicion. This can be particularly important in pre-matrimonial investigations, where the potential spouse may be unaware of the investigation. Private detectives can obtain information without alarming the potential spouse or their family.
Expertise: Private detectives of City Investigators are experienced in conducting investigations and have access to a variety of sources of information, including public records, databases, and other resources. They are skilled at analyzing and interpreting information and can provide valuable insights and recommendations based on their findings.
Time-Saving: Pre-matrimonial investigations can be time-consuming and require significant effort. Hiring City Investigators' private detectives allow the investigation to be conducted efficiently and quickly without wasting the client's time. Peace of Mind: Knowing that a potential spouse has been thoroughly investigated can provide peace of mind for the client. This can help them make informed decisions about the marriage and avoid any unpleasant surprises or disappointments in the future. Let's Find The worth of Your Wedding-Match With City Investigators Hiring a private detective for pre-matrimonial investigations can provide valuable information, save time and effort, and provide peace of mind for the client. City Investigators is a reputable and experienced detective agency in Delhi, ensuring that your pre-matrimonial investigation is conducted thoroughly and professionally.
I hire city investigators to Investigation about my hubby extra marital relations. I m fully satisfy with services and solutions provided by detective agency city investigators Detectives as per as the benefits of the evidences .thanks team city investigators for your helping regards ajay kumar singh .

लड़के यू पी के


November 21, 2019

just checking in Google which are the best detective agency for pree matrimonial in Delhi I ever found on Google in lot's of agency and call on different different agencies but not satisfied answers we get and finally we talked to Mr Raj and he was briefing on every points and They were helpful in my pree matrimonial investigation. They put their best to get all the necessary proofs to help me in genuine way . They might be high in price but provides sufficient results. I will recommend them for sure . Thanks City investigators detective teams .

Shahana Shareef


November 21, 2019

A agency you can trust and trust worthy guys . They delivered time to time reports at a time

MD Fahad


November 21, 2019

Apni shaq ki ghadi ya seedhi kare

Satyam Sharma


November 21, 2020

Highly impressed to city investigators team ! I had hired two times different – different detective agency's but they make me foolish and spoil my time & money but I am very thankful to Mr. Raj & city investigators team who give me genuine solutions and solved my personal problems.

shani pandey (NiK)


November 21, 2018

I am totally satisfied with the city detective give me all evidence which I want to need for my for my p property now I got my on property without any distribution

Gopal Jainwal


November 21, 2018

thanks for giving best services to us and save my life .

shivam Rai


November 21, 2018

I have been a satisfied client of city investigators. They are very much reliable, understanding and empathising. I assigned them for employment verification procedure. I have just started an organisation and I want good employees in my company. You can say that I have fear of employee bitching N all. But really a group of nice people can only make out good work.. and city investigators helped me a lot in choosing right candidate for my unit.. i will be choosing city investigators for my further appointments.

Nikita Roy


November 21, 2018

It is an amazing detective service which i have ever taken. You guys solved it my problem very secretly. Thanks City Investigators & Team.

Atmadeo Mishra


November 21, 2018

Best detective agency in Delhi ! Thanks for your genuine solutions .

Pawan Gera


November 21, 2018

Really appreciate city investigators team for your genuine work . The way you guys put your efforts to solve my personal problems thanx.no doubt you are professionals but the familier approach you always wear is adorable. i am just here to say thanx

Bhanu Pratap Saini


November 21, 2018

I hired this company and is feeling completely satisfied.My experience was great as my work was completed efficiently much within the time.

ANUBHAV SRIVASTAV


November 21, 2018